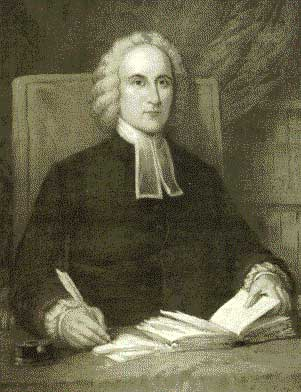 I have been reading through Jonathan Edwards' Charity and Its Fruits and have been richly blessed.  On a regular basis the dude with the wig has been landing steady body blows to my pride as he skillfully applies the words of 1 Cor 13 to the far off corners of my heart.
One specific area is with respect to revenge.  In chapter 4 Edwards is dealing with how to be patient when wronged and not retaliate to gain revenge and vindicate a hurt spirit, regardless of the offense.  Here is what I mean:
There are many ways in which men do that which is revengeful: not merely by actually bringing some immediate suffering on the one that may have injured them, but by anything, either in speech or behavior, which shows a bitterness of spirit against him for what he has done. Thus, if after we are offended or injured, we speak reproachfully to our neighbor, or of him to others, with a design to lower or injure him, and that we may gratify the bitter spirit we feel in our hearts for the injury that neighbor has done us, this is revenge.
So what does it look like?
He, therefore, that exercises a Christian long-suffering toward his neighbor, will bear the injuries received from him without revenging or retaliating, either by injurious deeds or bitter words. He will bear it without doing anything against his neighbor that shall manifest the spirit of resentment, without speaking to him, or of him, with revengeful words, and without allowing a revengeful spirit in his heart, or manifesting it in his behavior. He will receive all with a calm, undisturbed countenance, and with a soul full of meekness, quietness, and goodness. This he will manifest in all his behavior to the one that has injured him, whether to his face or behind his back. Hence it is, that this virtue is recommended in the Scriptures under the name of gentleness, or as always connected with it, as may be seen in Jam. 3:17, and Gal. 5:22.
I have noticed in my life the priority to do half the job, that is, to attend to the outward display of vindication.  However, if the truth be told, too often the inward turmoil of either frustration or bitterness is allowed to ferment unchecked.  Edwards here reminds me that this is far from love for God and others but instead is love for self.  In short, this half-checked heart is full orbed sin.
He picks up on this later:
(These) injuries (are to) be borne without our losing the quietness and repose of our own minds and hearts. They should not only be borne without a rough behavior, but with a continuance of inward calmness and repose of spirit. When the injuries we suffer are allowed to disturb our calmness of mind, and put us into an excitement and tumult, then we cease to bear them in the true spirit of long-suffering. If the injury is permitted to discompose and disquiet us, and to break up our inward rest, we cannot enjoy ourselves, and are not in a state to engage properly in our various duties, and especially we are not in a state for religious duties — for prayer and meditation. And such a state of mind is the contrary of the spirit of long-suffering and meekly bearing of injuries that is spoken of in the text. Christians ought still to keep the calmness and serenity of their minds undisturbed, whatever injuries they may suffer. Their souls should be serene, and not like the unstable surface of the water, disturbed by every wind that blows. No matter what evils they may suffer, or what injuries may be inflicted on them, they should still act on the principle of the words of the Savior to his disciples (Luke 21:19) — "In your patience possess ye your souls." (emphasis mine)
I have found this to be very helpful in revealing pockets of idolatry in my life.  Thanks be to God for the perfect man, the God-man Jesus, who loved God perfectly, loved his neighbor perfectly, and even when enduring the most wicked mistreatment from men, he 'When he was reviled, he did not revile in return; when he suffered, he did not threaten, but continued entrusting himself to him who judges justly.' (1Pe 2.23)  And to think that it was then that he was going to pay the eternal penalty for the love that I currently, even now as a Christian, lack!  He paid for my sin, my self-love there!  Even as the verse goes on to say:
He himself bore our sins in his body on the tree, that we might die to sin and live to righteousness. By his wounds you have been healed. For you were straying like sheep, but have now returned to the Shepherd and Overseer of your souls.  (1Pe 2.24-25)
What a great Savior who earned such perfect righteousness for such a great sinner as I!