Allen C. Guelzo, Fateful Lightning: A New History of the Civil War and Reconstruction (Oxford, 2012). Guelzo is one of the finest American historians writing today, and maybe the best historian of the Civil War era. Like the other works I've read from him, this book combines a mastery of the subject matter with a knack for readable prose. As the Director of Civil War Era Studies at Gettysburg College, some may detect more sympathy for the North than the South in Guelzo's history, but overall he has no problem critiquing and commending men and women on both sides of the Mason-Dixon. The strength of this book is that it manages to be relatively thorough (at 576 pages) without getting bogged down or sidetracked. Guelzo keeps the story moving at a good pace and tells the story very well.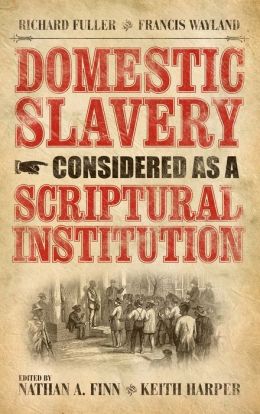 Nathan A. Finn and Keith Harper, eds., Domestic Slavery Considered as a Scriptural Institution (Mercer University Press, 2008). Finn and Harper are the editors, but the real authors of this volume are Richard Fuller and Francis Wayland. In late 1844 and early 1845, the Christian Reflector ran a series of letters between two Baptist leaders–Dr. Wayland, President of Brown University and Dr. Fuller, a pastor from South Carolina and one of the founders of the Southern Baptist movement. In 1846, their letters–with Wayland giving the anti-slavery argument and Fuller the pro-slavery side–were published as Domestic Slavery Considered as a Scriptural Institution. The exchange was thoughtful and irenic. A fascinating look at not only American history but the history of biblical interpretation.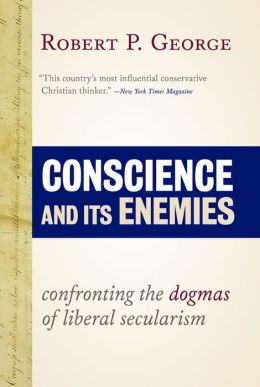 Robert P. George, Conscience and Its Enemies: Confronting the Dogmas of Liberal Secularism (ISI, 2013). George is a trenchant thinker, crisp writer, and arguably the most influential social conservative in our America. As a Protestant I differ with George's approach here and there (he is a Catholic), but you'll not find a better collection of pro-life and pro-marriage essays from a natural law perspective. Those apt to agree with George should read these essays to have your reasoning greatly strengthened. Those opposed must take this Swarthmore/Harvard/Oxford graduate and Princeton professor seriously.
Mary Eberstadt, How the West Really Lost God: A New Theory of Secularization (Templeton Press, 2013). In this fast-moving accessible work, Eberstadt makes the case that secularization in the West is due, at least in part, to the decline of the family. After explaining secularization and dealing with those who deny its existence, Eberstadt looks at the typical explanations for the loss of Christian faith in the West and concludes that one key factor has been missing. She makes a compelling case that the decline of the family has not only paralleled the decline of Christianity in the West, but that it has also been a contributing factor. Her thesis (despite a few egregious swipes at the Reformation along the way) is provocative, timely, and, at least to my amateur ears, convincing.