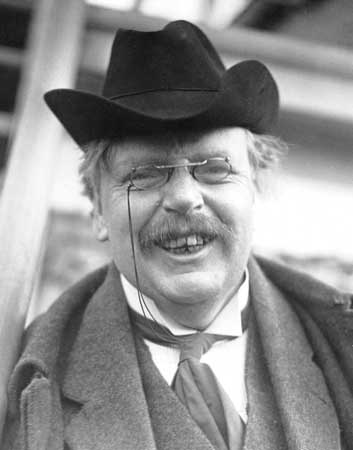 Okay.  I must confess.  I have collected Chesterton quotes without reading Chesterton's books.  Dude is just so pithy, pointy, and "plagariasable."  Here are a few cases in point:
"The true soldier fights not because he hates what is in front of him, but because he loves what is behind him."

"Fairy tales are more than true; not because they tell us that dragons exist, but because they tell us that dragons can be beaten."

"I would maintain that thanks are the highest form of thought; and that gratitude is happiness doubled by wonder."

"The Bible tells us to love our neighbors, and also to love our enemies; probably because generally they are the same people."

"Without education, we are in a horrible and deadly danger of taking educated people seriously."

"There are two ways to get enough. One is to continue to accumulate more and more. The other is to desire less."

"A good novel tells us the truth about its hero; but a bad novel tells us the truth about its author."

"If there were no God, there would be no atheists."

"Religious liberty might be supposed to mean that everybody is free to discuss religion. In practice it means that hardly anybody is allowed to mention it."

"It [feminism] is mixed up with a muddled idea that women are free when they serve their employers but slaves when they help their husbands."

"Dear Sir: Regarding your article 'What's Wrong with the World?' I am. Yours truly,"
― G.K. Chesterton

"It is absurd for the Evolutionist to complain that it is unthinkable for an admittedly unthinkable God to make everything out of nothing, and then pretend that it is more thinkable that nothing should turn itself into everything."

"Fallacies do not cease to be fallacies because they become fashions."

"How you think when you lose determines how long it will be until you win."

"Poets do not go mad; but chess-players do. Mathematicians go mad, and cashiers; but creative artists very seldom. I am not, as will be seen, in any sense attacking logic: I only say that this danger does lie in logic, not in imagination."

"Do not be so open-minded that your brains fall out."

"There are those who hate Christianity and call their hatred an all-embracing love for all religions."

"You say grace before meals. All right. But I say grace before the concert and the opera, and grace before the play and pantomime, and grace before I open a book, and grace before sketching, painting, swimming, fencing, boxing, walking, playing, dancing and grace before I dip the pen in the ink."

"One sees great things from the valley, only small things from the peak."

"You can only find truth with logic if you have already found truth without it."

"We fear men so much, because we fear God so little. One fear cures another. When man's terror scares you, turn your thoughts to the wrath of God."

"The poet only asks to get his head into the heavens. It is the logician who seeks to get the heavens into his head. And it is his head that splits."
As you can see, sometimes Chesterton is witty, sometimes profound, and always curious.  Some people like C.S. Lewis–and who can blame them.  But I have a feeling I like Chesterton more.  In addition to being insightful, he has that Mark Twain look that somehow seems to project playfulness, a child's unhindered insight, and a little irreverence in the face of convention.  Perhaps the fact that Chesterton was Roman Catholic troubles Evangelicals.  But the man was a good thinker, notwithstanding our irreconcilable differences on the justification, etc.  I plan to read more Chesterton; I know I'm poorer for not having done so already.
If you're interested in more quotes, you can find plenty over at Good Reads.