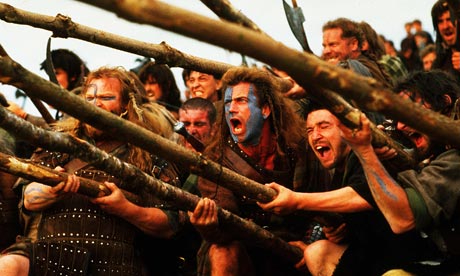 Dare anyone deny that Christians are among the most tribal of peoples in the world?  I'm not thinking of the way Christians may legitimately distinguish the church from the world, the saved from the lost, or the way lines must necessarily be drawn between orthodox and heretical views, or even about denominations (as Trueman likes to point out: "Denominations mean that somebody somewhere still believes something").  Rather, I'm thinking about the way Christians divide and gather, further divide and gather into value-based societies distinct from and uncooperative with one another.  Is it me, or is the problem pandemic?
On one level, the problem exists simply at the label of labeling.  We have and need ways of describing ourselves, our commitments, and our ambitions.  The natural tendency is to create a moniker, a one-word or one-phrase representative of deeper meanings.  I don't know that this is avoidable or good even if it were avoidable.  We've been naming things since Adam, and good names carry meaning, history, and identity.  That's why any call for doing away with labels won't work.  Sometimes we hear things like, "Can't we just call ourselves 'Christians'?"  But what is "Christian" but a label?  And what must "Christian" mean in order to escape a reductionism that leads to rank individualism?  We need labels–good labels– that communicate who we are.  So, we'll never escape naming ourselves and the quest for a one-size-fits-all tag seems quixotic.
But there's something deeper than naming that feeds the tribalism.  Beneath it all run three tributaries that dump into the lake of tribalism.
First, there are the relational inclusivists.  We know them by their Rodney King-inspired mantra: "Can't we all get along."  The inclusivists develop itches and rashes anytime disagreement may be spotted.  They prefer one large group of all Christians, a mass unity in which they're sometimes willing to overlook critical differences while we sing "We Are the World."  They interpret their bigness (at least their desired bigness) as evidence of the rightness of their cause.  Inclusivists stand aghast at the number of tribes around them, interpreting every division as evidence of failure or unfaithfulness.  They style themselves the party of love and acceptance, but they're just as tribal.  Listen to how they describe and demonize folks outside their group as unloving, cold, narrow, peevish, and more concerned with theology than either God or people.  On what do they base this?  Very often they base it on group membership more than on the actual attitudes and behaviors of the "other tribe."  If you're not in our big group of love then you must belong to some other camp less loving than we are.
Second, there are the exclusivists.  In one of my favorite episodes of The Andy Griffith Show, young Opie and his friends come to the jail complaining about the uselessness of history.  Andy gives them a rousing story about Paul Revere, the minutemen and the country's founding.  The boys' eyes blaze with excitement.  Barney stands amazed.  Following the story, Opie and friends settle some quick business like group name, mission, and place of meetings.  Then to the really important issue: Who can be a member?  Someone votes for letting everybody join, to which Opie conclusively responds, "It's not a club unless you keep somebody out." Opie the tribal exclusionary.  How often are our clubs and tribes simply exercises in exclusion, attempts at defining ourselves by not allowing others to be with us?  How do we do that?  Who's really an exclusionary?  More often than not we exclude by raising the theological or ministry practice bar as high as possible.  And not just high.  We make the "test" as specific as possible, even failing applicants who give the correct answer but not with our precise terms.  The premium gets placed on conformity, and usually conformity to secondary and even unimportant issues.  Sometimes our Christian tribalism springs from this sometimes elitist and sometimes low-brow desire to segregate, exclude, and banish "others."
Third, there are also the  close cousins to exclusionists: isolationists.  These are the folks who form tribes of one, except when they together raise their individual voices to decry all the other tribes.  They're a loose federation of discontents, a society of non-joiners–not always on principle, mind you.  They distrust belonging and think of every grouping as "unlawful."  They boast about not belonging to anything while criticizing everything.  Groucho Marx's famous quip is their personal anthem: "I refuse to join any club that would have me as a member."  They're "just Christians" in the "mere(ly) me Christianity" sense.  Those who isolate themselves like this pretend to a higher morality, a more noble approach to relationships, one where they are never caught being cliquish or divisive because they never join.  They're unspotted by association, solipsistic separatists, convinced of the rightness of their position because it's their position, rarely taking a position on anything other than being against all groups and their positions.
But there's a deeper root to tribalism still.  Each of these streams flow into the lake of tribalism but they flow from the mountain of alienation and pride.  Whether we see ourselves or others as inclusivists, exclusionists, or isolationists, we're really simply witnessing the brokenness of relationships that date back to Gen. 3, the hostility of Gen. 4 in softer tones, and the pride of Genesis 11 cloaked in Christian garb.  The confusion of Babel continues as various groups build their more perfect tower to heaven.
While we still suffer the confused tongues and misunderstanding, the reversal of Babel's curse has begun in the cloven tongues and nation gathering of Pentecost.  In this already/not yet, we live with vestiges of paradise lost and foretastes of paradise regained.  But this in-betweenness can be frustrating and painful.  The old man dies violently, reluctantly.  He sometimes exerts his greatest rebellion where we'd expect to see the brightest indications of new life, like a resistance fighter spraying graffiti on the shiny monuments of the state's power. Our battle for sanctification reminds us that the war is won, the city captured, but there are still pockets of resistance in streets and small neighborhoods aligned with the old man.  Our fight for less tribalism and more unity–a unity premised on like precious faith, defined biblical truth–continues apace the Molotov cocktails, rocks, and ambushes of a tribal instinct as old as Genesis 10.
What's the answer?  I don't know really.  But we can start with being honest about which stream we are in ourselves.  Let's stop characterizing others and cast a critical eye at ourselves.  We do have logs to remove, don't we?  I suspect that a little truth telling to ourselves about our stream and motivation could go some ways in opening us up to seeing some issues and some people differently.
Then, it seems to me, there should be some talking across tribal lines.  The elders of the clans should gather and the people should smoke the peace pipe.  That doesn't mean leaving your clan; it simply makes your tribe civil.  It seems necessary to say that neither tribe gets it all wrong or all correct.  Surely we should desire as wide a unity as possible, and we should also exclude those that threaten that unity with falsehoods.  There most certainly comes a time when we should not join, even though we must recognize the inescapable requirement to belong to the local church and the global church.  Escaping tribalism probably feels a little chameleon-like depending on the issue.  There's something for us all to learn from one another.  We should be skeptical of that little voice which resists peace, bristles at talking with "others," and finds balkanization cozy.  That's the flesh, not the Spirit.  We should do everything to maintain the unity of the Spirit in the bond of peace.  We should ask ourselves if we're doing our part to end the tribalism and the lazy labeling that often accompanies it.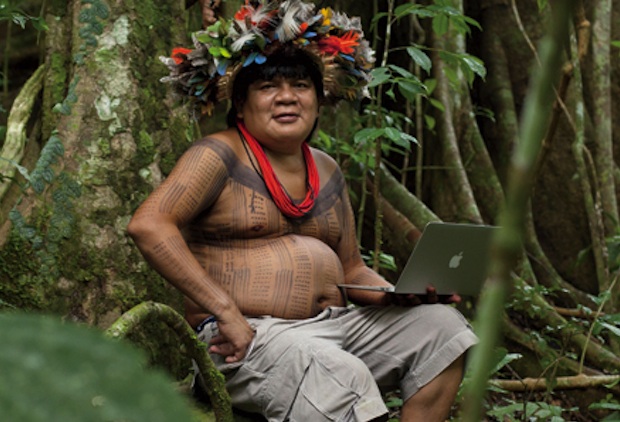 But this is precisely where the digital age's democratization of information can be a real enemy.  We can now publish too quickly, without the requisite literature and peer reviews that inform us, balance us, and open us up to "the other side."  What we often end up publishing is the silt and debris that gathers along the banks of our particular tribal streams.  We're well past the point when Christians should ask themselves whether their computers aid or hinder our fallen tribal instincts.  Don't get me wrong; I'd certainly prefer the democratization of technology and information to the control and restriction of media by a small cadre of elites.  But I most prefer a sanctified distribution of media control and use.
It'll be easy to justify our next misinformed missive with an easy reference to our indwelling sin or with some valiant reference to "taking a stand."  If we do, we'll miss the opportunity to grow in practical holiness by a degree.  The next keystroke could be one more death blow to the old man or it could be one more arrow thrown for tribalism.  Do we actively think of our keyboards and our digital "spaces" as opportunity for sanctification? Too often I don't.  And I'm afraid it sometimes shows in my own tribalism.